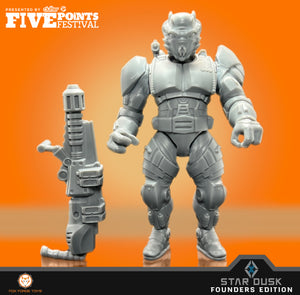 Please allow 10 business days to ship your order for this item!
Be apart of Fox Forge Toys History! Own this limited production run line of Star Dusk figures. These figures are 3D printed and are hand assembled, hand painted, and hand packaged.
Care Instructions:
This is an adult collectible and is not designed or made for children. 

Not for use or handling by anyone under the age of 15.
In order to avoid deformation, please do not place product at unstable position, near heater, in the cold, and avoid rough play.
This product is fragile and is intended for light play and display purposes only.
Action Figure Information:
Designer art toy
Five points of articulation
3D printed in high quality resin
Hand assembled
Hand packaged
Limited production runs
Made in the USA
What Comes With The Figure?
One Xurgh action figure
One AV16 Pulse Repeater